IP Telephony for
your business
Call without restrictions from any device
Rent numbers of any country in the world
Automate the call center with PBX
233
Employees
in the Company
Telephony connected via
the Internet
You do not need additional wires to connect. In addition, your managers will be able to call from any device that supports the SIP standard: a desk phone (connected to the Internet via a network wire), a computer using a special program, as well as a mobile phone (when connected via Wi-Fi).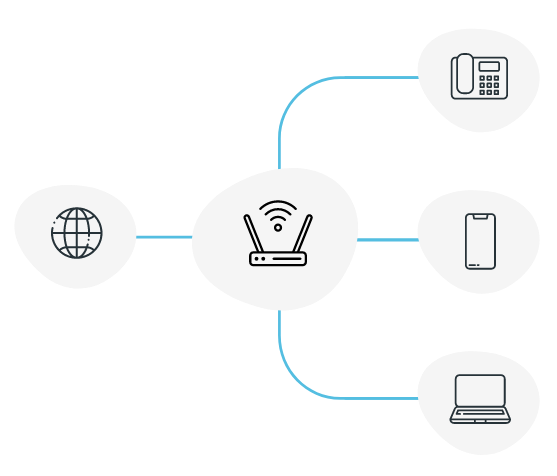 An ideal solution
for remote work
Since IP telephony is connected via the Internet, your operators will be able to work from anywhere in the world. At the same time, they will be connected to your office telephony, i.e. they will be able to receive customer calls and call from your corporate number - everything the same as in the office, only from home.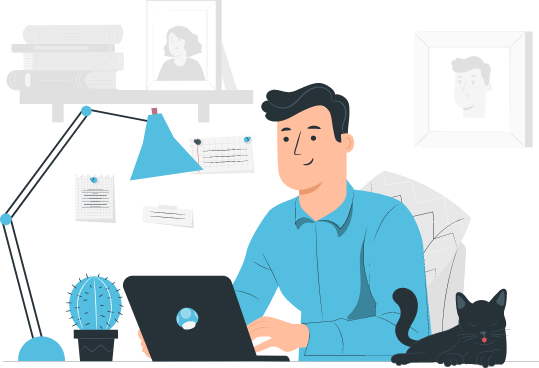 Rent a number of
any country in the world
With us, you can rent a number of another country, for example, Lithuanian (+370), Estonian (+372), German (+49), Swedish (+46), Russian (+7) or any other. You will be able to call from this number, as well as receive calls to it, and people will think that your office is located in that country.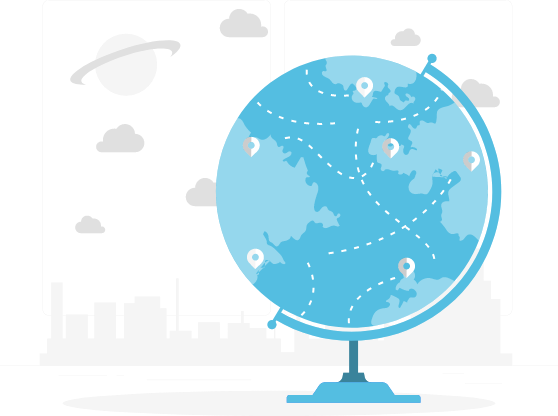 Virtual station (PBX) functions
Call recording
Control the work of your employees, improve the quality of service and resolve any disputable situation in one click
Short numbering
You will be able to quickly communicate with your colleagues using a short internal number, as well as connect the client with other employees.
Missed calls to e-mail
You will receive e-mail alerts about every missed call, so not a single call from your client will be missed.
Interactive answering machine
Set up a greeting for your customers in a convenient language and an alert about working hours to make it more convenient for them.
Call distribution
ПIt will help to distribute incoming calls between employees according to their duties. Your clients can choose topics for conversation and their calls will be automatically redirected to the appropriate department.
Flexible forwarding
The client will always be able to reach your company because calls will be forwarded within the department, as well as to a mobile phone, if necessary.
Telephony tariffs
Efficient
per line
Calls within Latvia from € 0.013 per minute
Cheap calls abroad
Your phone number is saved
Choose
Free
per line
Unlimited calls to all networks in Latvia
Cheap calls abroad
Your phone number is saved
Choose
* Prices do not include VAT 21%
Need help choosing?
Contact our Business Manager and get advice by phone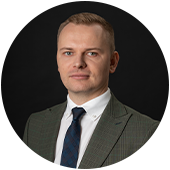 Cheap calls abroad
Europe

United Kingdom
from 0.0194 € / min.

Germany
from 0.0194 € / min.

Spain
from 0.0194 € / min.

France
from 0,0199 € / min.

Italy
from 0.0194 € / min.
America

United States
from 0.0194 € / min.

Canada
from 0.0194 € / min.

Mexico
from 0.0194 € / min.

Brazil
from 0.0232 € / min.

Argentina
from 0.0194 € / min.
CIS

Russia
from 0.0362 € / min.

Ukraine
from 0.187 € / min.

Kazakhstan
from 0.0811 € / min.

Belarus
from 0.45 € / min.

Georgia
from 0.32 € / min.
Check how much a minute of talking will cost
Enter your phone number in the international format with the country code.
Example: 37129333333
Our main task is to find the best solution for your business.

A large office or a small shop, warehouse or workshop – nowadays every company has a telephone for communication with customers, partners or employees. Modern business telephony has stepped forward and makes it possible to use functionality that not only facilitates work but also significantly reduces the cost of calls. You can get a free system of call reporting and control, which will allow you to resolve a disputable situation with a client and effectively monitor the work of employees. This system will help you improve the quality of service, increase the number of potential customers and, of course, the profit of your company.
24/7 priority technical support
For business clients, we provide priority technical support around the clock (24 hours a day). In case of technical questions, you will be able to call us even at night and we will help you within 15 minutes.


Additional solutions
for your business